2019 Freedom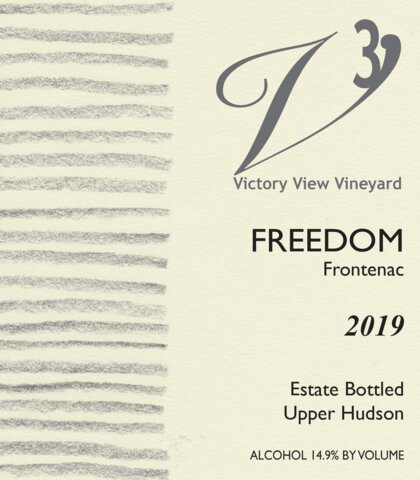 Tasting Notes
Our Freedom offers frontenac's cherry red hues in the glass and aromas of cherry fruitiness on the nose. Our frontenac is a full-body, dry red wine boldly showing bright cherry notes on the palate and a pleasing dry finish.
Winemaker's Notes
Freedom is made exclusively our frontenac grapes from the top of our vineyard hill. Our frontenac grapevines thrive on our rocky site allowing us the freedom to craft this truly distinctive red wine in the Upper Hudson Valley. Freedom is aged in American and French oak barrels.
Freedom pairs well with grilled or roasted beef, pork and lamb, and it's a perfect red wine for popping a cork and enjoying a relaxing glass.
A Touch of History
We name this wine Freedom simply because our farm is located in an area of upstate New York known for its history in the American Revolution and its present-day free thinkers whom cherish our freedoms and civil liberties. We all don't think alike, but we can get along and be friends!
Feel free to grab a glass of Freedom and tell us what you're thinking.
Awards
2015 Freedom – bronze – 2017 Finger Lakes International Wine Competition
2015 Freedom – silver – 2018 Finger Lakes International Wine Competition