2019 Rae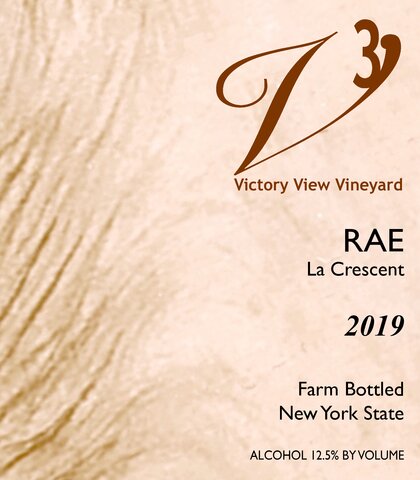 Tasting Notes
Rae - our "orange" wine - is a dry, flavorful, warm and vibrant wine. Enjoy Rae's fragrant nose, soft fruity hints on the palate, and a clean finish
Winemaker's Notes
Rae is made from our la crescent grapes and is aged in stainless steel. We usually crush la crescent, press immediately and ferment the clean juice. This wine was handled like a red - crushed, fermented on the skins for five days, and then pressed. Fermenting on the skins gives Rae a light orange color, like an early morning ray of sunshine.
We serve Rae with salads and mediterranean dishes. Or, chill and sip!
A Touch of History
From the beginning of our nation, women have been important to the development of our nation, but without due mention in the history books. Rae is the fourth wine in our Strong Women Series. We named this wine Rae to represent today's strong modern women – the women working and striving to influence society to be better, more democratic and to reflect our country's values. To strong women everywhere – the parent, teacher, activist, front-line worker, leaders – we salute you.
We raise our glasses to toast today's women making history in our country. Let there be more of it! Cheers!