Find Us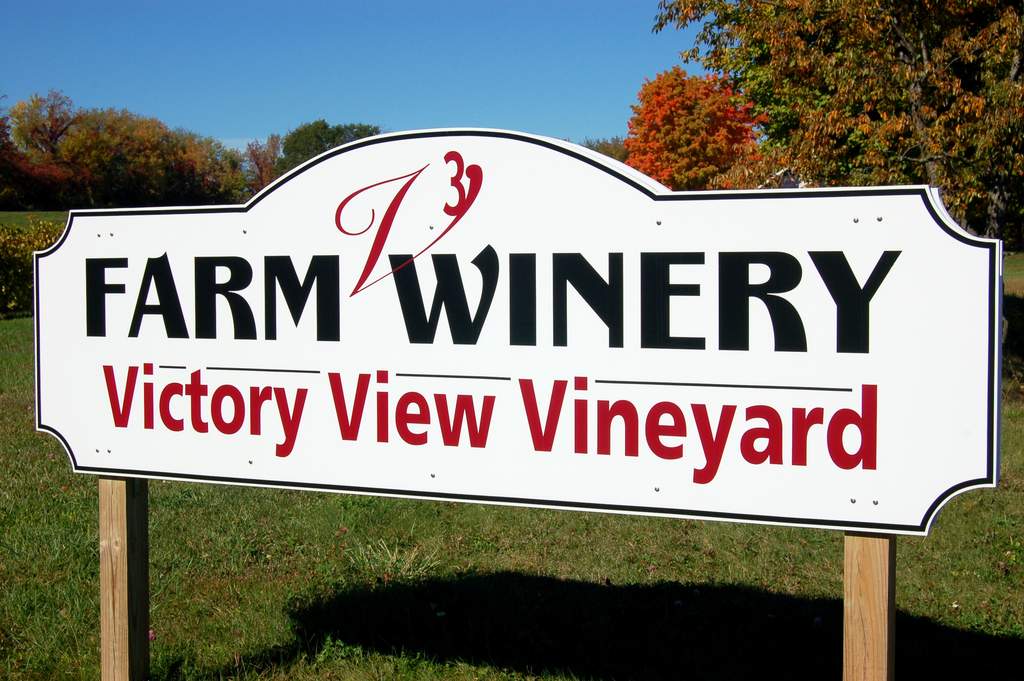 At Victory View Vineyard is located in southern Washington County near Saratoga Springs, New York. Our farm winery is east of the Hudson River, north of the Hoosic River and south of the Battenkill. We are located approximately half way between Greenwich, New York, 7 miles to the north, and Schaghticoke, New York to the south at 11975 State Route 40. Our farm winery, tasting room and vineyard are on our premises in the hamlet of North Easton, New York. Look for our open flag flapping at our red gate.
Hours
We are currently open with outside seating, only, for wine tastings and wine by the glass. Our drive-thru continues to be open only for bottles to go. Our hours are:
Fridays - 3-7 pm
Saturdays - 12-6 pm
Sundays - 12-6 pm
Monday, October 12th - weather permitting - 12-6 pm
Outside Seating with Wine Service
We follow the State and CDC guidelines. Our outside tables are arranged to promote social distancing, and our staff wears masks at all times. Every patron must wear a mask unless seated for a wine tasting session or glass of wine. So, please remember to don your mask in the parking lot, then you may remove it when we seat you at one of our outside tables. Patrons must remain a 6-foot distance from others, even while wearing a mask. Please contact us in advance if you plan to visit with a group larger than 5 people. We accept groups up to 10 people. At this time, our winery building is closed to guests.
We enjoy conducting your wine tasting session and answering any questions about growing grapes and making our wines. Thank you for your support, patience and understanding as we pivot to navigate the health and safety restrictions on the road ahead during the pandemic.
Picnic Spots
If you're feeling cooped up and want to get outside we also have designated picnic spots on our farm to share with your household. Just drive up to the drive-thru (between the half wine barrens by the front door), remain in your car, and we will direct you to a picnic spot to park. No purchase is necessary. Plan to bring your own picnic blanket, folding chairs and food, and carry out what you bring in. No other alcoholic beverage may legally be brought onto our farm.
Drive-thru Pickup
Due to the coronavirus epidemic we are continuing social distancing procedures. Just drive up to our front door drive thru, stop at the half barrels, beep your horn, roll down the passenger-side window, and Gerry will take your order and process the credit card transaction at a safe distance. Then, you can pop open your trunk and he'll load in your purchase.
To place an order in advance, to make an appointment for pick up, or for more information, please contact us.
We continue to monitor the current and necessary coronavirus restrictions. We will reopen our Tasting Room after the risk of contamination from the coronavirus has subsided. We look forward to returning to normal, but we realize safety isn't convenient - the current restrictions are necessary for the health of our family, our customers and especially health care workers whom risk so much for our community during this pandemic.
Please stay safe!
When We Return to Normal…
Stand at our tasting room bar, sit inside our barrel room, or relax on our patio while you sample our wines. We offer wine by the glass, so feel free to stay for a while and visit with our winemaker. Try our cold hardy varietals and taste some distinctive, award-winning, upstate New York wine.
Normally, you can tour our winery, and we'll explain the what, when, where, why and how behind the wine-making process. Then head down to the vineyard to see what sets us apart. We make our wines exclusively from the grapes we grow right here at our vineyard in North Easton. Come see the short trip our grapes make from our vineyard to the crusher!
When will we return to normal? Not this year - hopefully sometime in 2021.
---
Map & Directions
We recommend google maps for directions. Your GPS might take you too far south on Route 40. If you are having difficulty finding us or viewing the map, please call anytime at 518-461-7132.
---