2018 Excelsior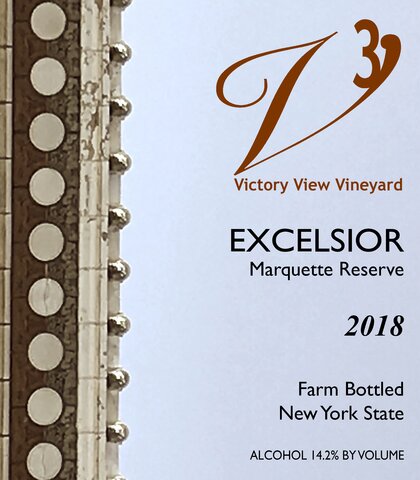 Tasting Notes
Excelsior is an elegant wine, a bit lighter and more austere than our other marquette wines. The typical blue and red fruit notes of marquette shine through and are nicely balanced with a light touch of oak.
Winemaker's Notes
Harvest time is chaotic – picking, crushing grapes, and pressing off freshly fermented reds. In 2018 we picked some early ripening marquette before harvest got crazy. We used it to make a freerun marquette wine. Freerun is the term that describes wine that flows from the wine press before the press is operated to squeeze the fermented grapes. Then we age Excelsior in second use French oak barrels.
A good choice for a special occasion, we pair Excelsior with a filet mignon or a tuna steak.
A Touch of History
We named this wine Excelsior to pay homage to the motto of New York State. The name is descriptive of our continued quest for excellence and the bright future of New York's wine region.
To New York State's history-making, world class wines! Cheers!