2018 Abigail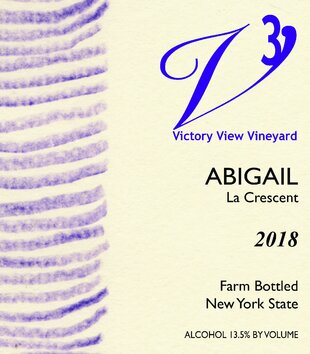 Tasting Notes
Abigail begins with delicate citrus aromas. On the palate explore the light peach, melon and citrus flavors and balanced minerals and acidity.
Winemaker's Notes
Our semi-sweet white wine is crafted with la crescent grapes which provide good structure for an excellent sweet wine. We hand harvest the grapes at peak ripeness, crush and immediately press and vinify them in stainless steel to preserve the delicate aromas and flavors of peach, citrus and melon, and produce a lively white wine with just enough residual sugar to nicely balance the acidity.
A Touch of History
Abigail is the second wine in our strong women series. We named this wine to honor Abigail Adams, one of our "Founding Mothers" and a woman of great strength, integrity and honor. Through her letters that conveyed revolutionary ideas to her husband, John Adams, Abigail expressed her political views and her desire for women's rights. Her love, friendship and candid support for her husband influenced his political views and presidential aspirations. She symbolizes the strength of the women who cared for the family and managed the farm while their husbands were away and engaged in revolutionary activities.
Sweeten those precious moments of life with a glass of our Abigail - la crescent.