The Cheese Tour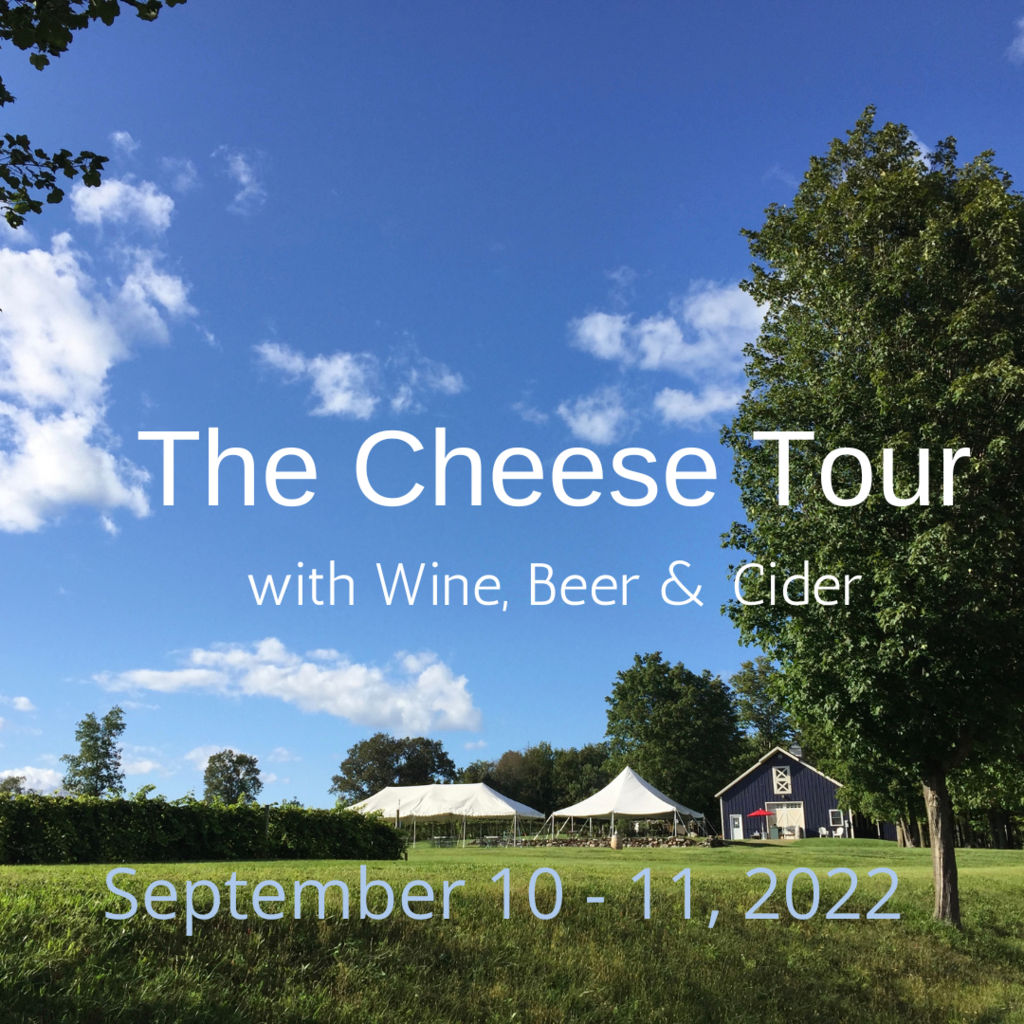 The Cheese Tour is a labor of love for our seven farm families that keep the tradition going on the weekend after Labor Day. The annual Washington County Cheese Tour with Wine, Beer & Cider is Saturday, September 10 and Sunday, September 11, 2022, 10 am to 4 pm. Foodie adventurers gather their friends to travel the self-guided tour through the twists and turns of Washington County's country roads to visit our seven farms - three cheesemakers, a farm winery, a craft farmstead brewery, a farm cidery and, now, a popular pumpkin farm stand during the weekend event.
Victory View Vineyard is the farm winery stop on the tour. During the tour weekend, we are open 10 am to 6 pm, and we offer a limited, "sample-first" free tasting before buying a select glass of wine or bottles to go along with case discounts. Full tasting sessions of all whites, all reds, or all wines are on the menu. Snack plates with local artisan cheeses are also for sale in our wine tent. A wood-fired pizza maker is on site for an extra local treat. We offer guests, who are interested in the process of growing grapes and making wine, free vineyard and winery tours, and, of course, our wine maker pours wine samples and can tell you about our distinctive grapes and wines.
This year The Cheese Tour welcomes Tiashoke Farm Stand, our neighbor, less than a mile to our south. Jessica Ziehm sells antiques, and beef and pork, but she is most known for her roadside farm stand's lively display of pumpkins, gourds, mums and an old farm truck marking her location at 11822 NYS Route 40. During the weekend of The Cheese Tour, the farm stand is expanding and opening a farm store in a newly renovated historic dairy barn. Other stops on The Cheese Tour are Argyle Cheese Farmer in Hudson Falls, Consider Bardwell Farm in Pawlet, VT, Dancing Ewe Farm in Granville, R.S. Taylor & Son Brewery in West Hebron, and Slyboro Ciderhouse in Granvile.
Our Washington County Cheesemakers Guild, a non-profit corporation, hosts The Cheese Tour annually to benefit our community and forge a better understanding between customers and the local cheese, wine, beer and cider they love. The Cheese Tour is a way to learn about and support our small farms, other local businesses and the food pantry in our rural county during this two-day event.
Though there is no admission fee for The Cheese Tour, the owners of our seven farm stops hope to benefit Comfort Food Community whose mission is to work to end rural hunger, support local farms, and build a healthy community. We ask for a donation to this local food pantry and farm and food hub. So, please stop by their table so they can convey information and accept donations during the tour to benefit their important work. Thank you!
We hope to see you at our uniquely Washington County event - The Cheese Tour. Cheers!