Outside Wine Service at Victory View Vineyard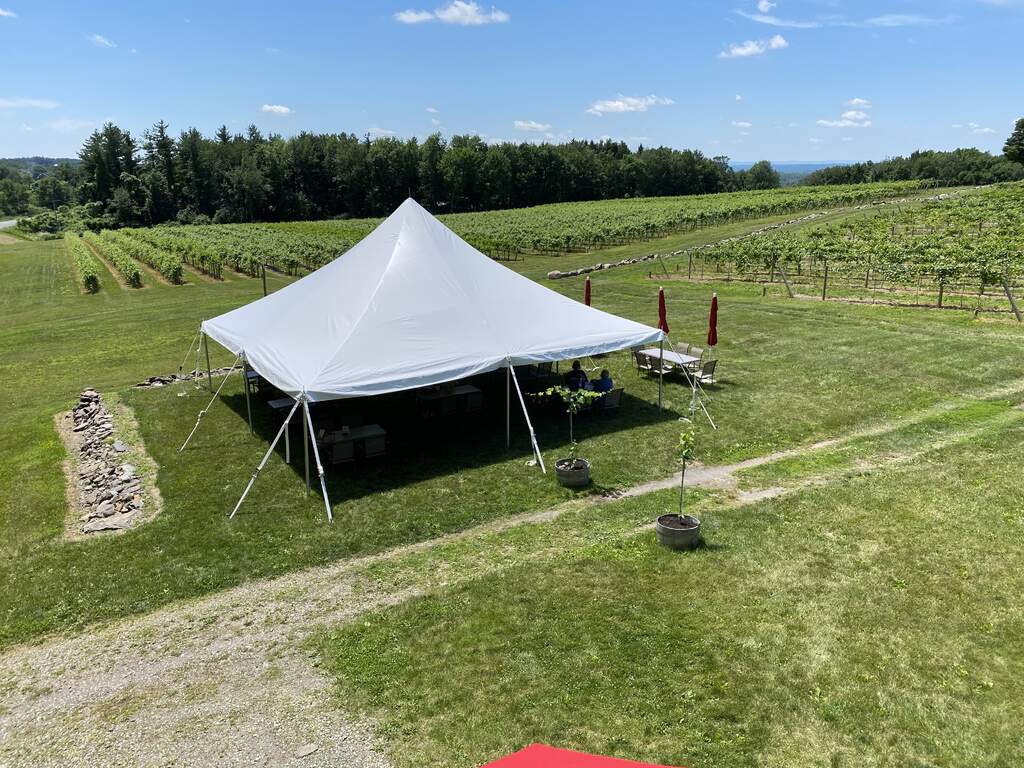 Whelp! I guess we made the right call to continue with outside-only, seated wine service for this year. In June we purchased a tent for shade from the summer sun, and we appreciated the cover during those overly wet and rainy days in July. We still have tables spaced over 6 feet apart inside and outside the tent. You can relax and enjoy our wines in a spacious outdoor setting overlooking our lush vineyard.
Our wine tasting list currently consist of three whites and four reds made with the grapes we grow in our vineyard. We offer snack plates, that serve two, featuring local artisan cheese and local in-season produce. You can have a glass of wine delivered to your outside table for $7. A couple can each enjoy a glass of wine and share a snack plate for $22. Reservations are required for parties of six or more.
At Victory View Vineyard, we feel lucky to have a lot of outside space on our farm to spread out. We have several private sites for you to choose from for your rented tent and catered party. Please contact us if you want to hold an event at our farm.
We continue to allow you to bring your own food and have family picnics on the hill under shade trees. If you plan to picnic on our farm, please bring your own blanket and carry out what you bring in. It is illegal to bring other alcohol products onto our farm winery property.
So, with the Delta variant on the uptick seemingly everywhere, we're still outside only. All employees are vaccinated. Mask wearing is not required outside, but we ask that you still give our other guests space while walking around outside. We want everyone to feel comfortable and safe. Thank you!