2019 Three Rivers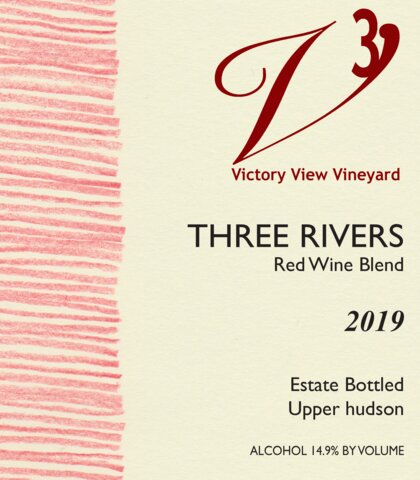 Tasting Notes
The backbone of this red blend is the marquette grape with its hearty flavor, spice and deep color. Our maréchal foch grapes add red fruit notes, softness and a lovely nose. Frontenac brings big red cherry fruit and even more body and color to the blend.
Winemaker's Notes
Three Rivers is our first red blend. All these grapes, marquette, foch and frontenac, are grown in our vineyard and vinified in our farm winery. Aged in a combination of French-American hybrid oak barrels and American oak barrels, we blend these three varietals to produce a limited-production, rich and complex dry red wine. Three Rivers pairs well with red meats and substantial foods such as roasted lamb, braised venison and prime rib.
A Touch of History
Our vineyard is located nearly equidistant from the Battenkill to the North, the Hudson River to the West and the Hoosic River to the South. Hence the name Three Rivers. This land between the rivers saw action during the French and Indian War and the American Revolution and is rich with the early history of our country. With this wine, we continue to achieve our goal of producing fine wine from historic ground.
Join us, and raise a glass of Three Rivers to all who live along these rivers and all whose daily work is to protect and preserve our precious waterways. Cheers!
Awards
2016 Three Rivers – Bronze – 2019 New York Wine Classic
2017 Three Rivers – Silver – 2020 Finger Lakes International Wine Competition