2019 Revolution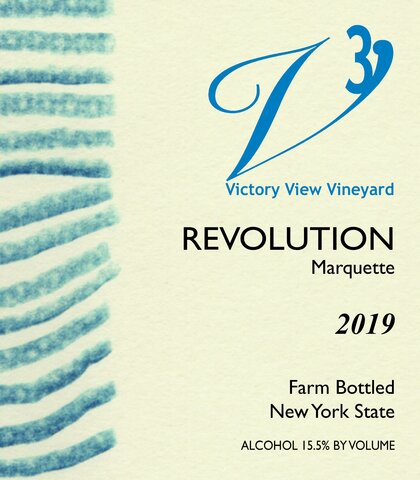 Tasting Notes
Marquette offers dark rich purple in the glass, and aromas of cherries and earthiness on the nose. Pepper and spice saturate the palate as you work your way to dry finish.
Winemaker's Notes
Revolution is a dry red wine made with our hand-harvested marquette grapes. We age Revolution in American oak barrels. The complex and bold flavor profile of pepper and spice is crafted to be a dry red wine that complements a formal meal of grilled or roasted beef, roasted lamb or roast pork loin. We also enjoy Revolution with pizza, burgers and spicy chicken wings.
A Touch of History
We named this wine Revolution to commemorate the active revolutionary spirit that was prevalent in our area in the 1770s and because the marquette grape is creating a revolution of its own among northern climate grape growers and winemakers.
Revolt! We dare you to step out of your comfort zone and pour a glass of marquette Revolution and try a new, revolutionary New York State red.
Awards
2013 Revolution – Bronze – 2015 Hudson Valley Wine & Spirits Competition
2014 Revolution – Silver – 2016 Finger Lakes International Wine Competition
2014 Revolution – Bronze – 2016 New York Wine & Food Classic
2015 Revolution – Bronze – 2017 Finger Lakes International Wine Competition
2015 Revolution – Bronze – 2018 Finger Lakes International Wine Competition