2018 Charlotte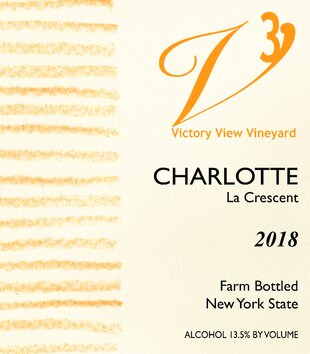 Tasting Notes
Charlotte begins with vibrant fresh fruit aromas of grapefruit, melon and apricot. The essence of the aromatics is captured on the palate with balanced minerals and acidity that lingers with a refreshing mouth feel and crisp finish.
Winemaker's Notes
Charlotte, the first wine in our 'strong women' series, is a dry, Germanic style wine from our estate grown la crescent grapes. We harvest the grapes at peak ripeness, crush and immediately press and vinify them in stainless steel to produce a nicely balanced wine. Served chilled, this wine pairs well with fish, poultry, and many kinds of cheese.
A Touch of History
We named our la crescent wine Charlotte to honor the history of our area. After splitting from Albany County in 1772, our area was named Charlotte County in honor of King George III's eldest daughter. The County was renamed Washington County in 1784 to honor the service of General George Washington during the American Revolutionary War.
The name Charlotte calls to mind the Baroness Fredericka Charlotte Riedesel. The Baroness, and her three daughters, traveled with her husband, General Friedreich Riedesel, commander of the German troops in General John Burgoyne's army of invasion that was defeated during the Battles of Saratoga. The red-haired Baroness was described as "possessing no small share of beauty." She was adored by the German troops and was credited for being "an angel of comfort" who "restored order to chaos" for her work caring for wounded soldiers and the women and children in Burgoyne's defeated army.
A glass of Charlotte at the end of a hard day provides comfort and helps us to "restore order to chaos."
Awards
2012 Charlotte – Bronze – 2014 Finger Lakes International Wine Competition
2014 Charlotte – Bronze – 2016 Finger Lakes International Wine Competition
2015 Charlotte – Bronze – 2017 Finger Lakes International Wine Competition
2017 Charlotte – Gold – 2020 Finger Lakes International Wine Competition