2017 Lafayette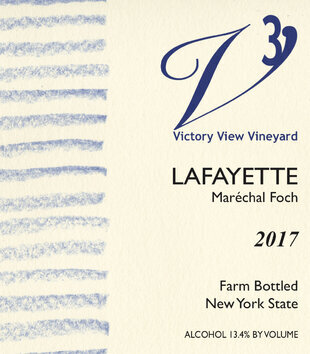 Tasting Notes
Lafayette is a well balanced intense, deep red wine with delightful aromas of red berries. On the palate, taste bright strawberry, dark cherry fruit and nice middle tannins. Creamy spice, leather and tobacco notes come through to a dry finish.
Winemaker's Notes
Lafayette is a dry red crafted from maréchal foch grapes grown in our vineyard. Our "Foch" consistently ripens with a beautiful balance of sugar and acidity. Lafayette is aged in American oak for at least six months before bottling. We pair Lafayette with roasted red meats, grilled salmon or halibut, and roasted duck. It also nicely complements our favorite dark chocolates. Serve Lafayette at cool room temperature.
A Touch of History
Our Lafayette is named to pay respect to Gilbert du Motier, Marquis de Lafayette, the French general who became one of George Washington's most trusted lieutenants and a hero of the American Revolution. While Lafayette was not present for the 1777 Battles of Saratoga, his efforts along with the Colonial Army's success at Saratoga were pivotal in bringing France into the Revolution as allies of the fledgling United States.
A glass of Lafayette can lead to a pivotal discovery that fine wines can be crafted from northern, cold-climate grapes.
Awards
2012 Lafayette – Silver – 2014 Finger Lakes International Wine Competition
2013 Lafayette – Silver – 2015 Finger Lakes International Wine Competition
2013 Lafayette – Silver – 2015 Hudson Valley Wine & Spirits Competition
2014 Lafayette – Double Gold – 2016 Finger Lakes International Wine Competition
2015 Lafayette – Silver – 2018 Finger Lakes International Wine Competition
2017 Lafayette – Bronze – 2020 Finger Lakes International Wine Competition