2016 Nathaniel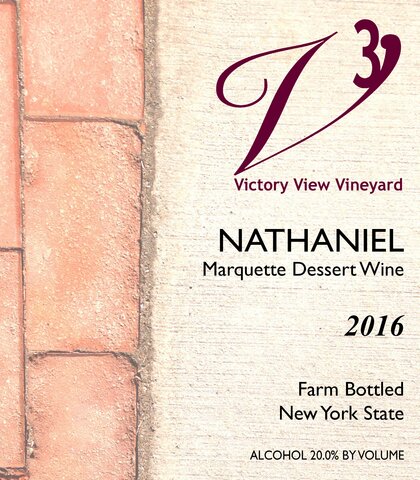 Tasting Notes
Rich, complex, with a deep black cherry color, Nathaniel is a port-style wine that is lush, slightly sweet, and very soft with notes of black cherry and vanilla on the pallet.
Winemaker's Notes
We crafted Nathaniel using our marquette grapes, fortified it with distilled grappa, and aged it in French oak barrels for five years.
A Touch of History
Our area is rich with the history of the French and Indian War and the American Revolution. Nathaniel is a rich, fortfied wine that honors two participants in that history, one Fictional and one real. Nathaniel Bumppo is the fIctional woodsman, Hawkeye, who roamed our woodlands with his Mohican brothers throughout the 1750s and 1760s. Nathanael Greene is widely judged to be the best field general in George Washington's Colonial Army and is credited with the successful "Southern Strategy" that eventually led to Cornwallis' surrender at Yorktown.
We like to think that Hawkeye and General Greene would have enjoyed a glass of this rich wine at the end of a difficult campaign.