2015 Turning Point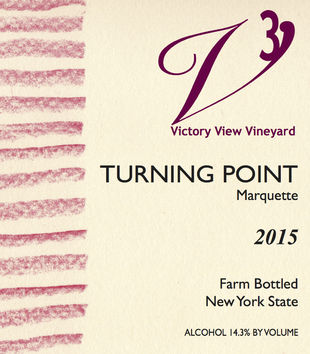 Tasting Notes
Our marquette grapes offer a deep garnet with shadows of royal purple in the glass, and aromas of stone fruit, smoky cedarbox and earthiness. Creamy blue fruit, touches of fig, lavender, and licorice saturate the palate. The lingering finish gently hints of oak and soft tannins and begs another sip.
Winemaker's Notes
Turning Point is a full-bodied dry red wine crafted with our 'estate' grown marquette grapes and aged in American oak barrels for at least six months before bottling. This complex wine pairs well with spicy Italian or Mexican food, grilled or roasted beef, pork, lamb, and your favorite venison or rabbit recipes. Turning Point should be allowed to breathe for 20-30 minutes after opening and be served a bit warmer than many reds, at 68° or so.
A Touch of History
We named this wine Turning Point because our vineyard is across the Hudson River from the Saratoga National Historical Park, site of the 1777 Battles of Saratoga that were the "Turning Point" of the American Revolution. Also, development of the marquette cultivar by the University of Minnesota was a turning point in the cultivation of wine grapes in cold climates. This hardy northern vine thrives in our area and produces the quality fruit needed to make a fine red wine.
A bottle of marquette Turning Point will disappear quickly over a fine meal with friends celebrating one of life's turning points.
Awards
2012 Turning Point – Bronze – 2014 Finger Lakes International Wine Competition
2013 Turning Point – Silver – 2015 Finger Lakes International Wine Competition
2013 Turning Point – Silver – 2015 Hudson Valley Wine & Spirits Competition
2014 Turning Point – Bronze – 2016 Finger Lakes International Wine Competition
2014 Turning Point – Silver – 2016 New York Wine & Food Classic
2014 Turning Point – Silver – 2018 Finger Lakes International Wine Competition
2015 Turning Point – Bronze – 2017 Finger Lakes International Wine Competition
2015 Turning Point – Silver – 2018 Finger Lakes International Wine Competition