2014 Independence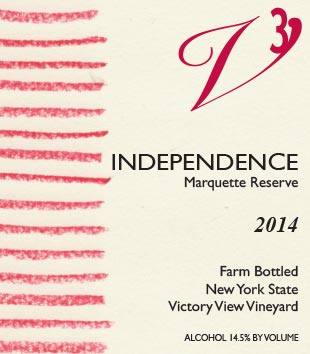 Tasting Notes
Our Marquette Reserve is deep garnet with shadows of royal purple while aromas of plum and earthiness fill the glass. Pepper and spice with hints of plum, fig and vanilla saturate the palate. The soft tannins and a gentle hint of oak linger on the finish.
Winemaker's Notes
Independence is a limited production, dry red wine that we make using the very best of our own hand-harvested marquette grapes. Independence is aged in French oak to produce a well-balanced wine with a complex flavor profile that blends subtle earthiness with the wonderful fruitiness and spice characteristics of marquette grapes. Only 45 cases of Independence to go around.
A Touch of History
We named this wine to celebrate the creation of our nation and the independent spirit. The American Revolution achieved freedom from British control and independence and granted the freedom of our citizenry to govern collectively for the common good.
Independence - for the strong and independent-minded.
Awards
2013 Independence - Best Red Wine - 2015 Hudson Valley Wine & Spirits Competition
2013 Independence - Double Gold - 2015 Hudson Valley Wine & Spirits Competition
2014 Independence - Bronze - 2017 Finger Lakes International Wine Competition