2013 Rebellion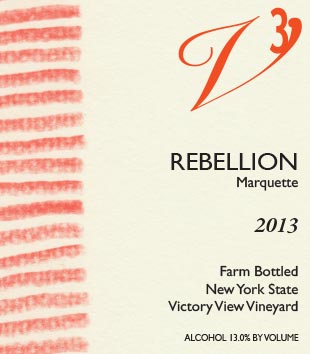 Tasting Notes
Marquette offers dark rich purple in the glass, and aromas of cherries and earthiness on the nose. Creamy blue fruit, pepper and spice saturate the palate and a lingering finish.
Winemaker's Notes
We make Rebellion using our own Marquette grapes that are harvested at a sugar content of 22 to 23 Brix and then vinified to achieve a wine with about 1.0% residual sugar. This process produces a lighter, fruity, semi-sweet wine that appeals to wine drinkers who prefer a fruity, slightly sweet wine, but still retains notes of pepper and spice. Rebellion is a perfect wine to enjoy at a festive gathering, and it complements just about any hors d' oeuvres or party food.
A Touch of History
Through the 1760s and early 1770s rebellion brewed in the colonies as colonial newspapers, pamphlets, and broadsides announced the sentiment of taxation without representation. In colonial assemblies and taverns resentment grew and passions revived with the Tea Act of 1773 which led to the path of revolution and, most notably in our region, the battles of Saratoga. We name this wine Rebellion to honor those willing to risk all to rebel against injustice.
Sweeten the rabble rouser in you by enjoying some down time with a glass of Rebellion.
SOLD OUT