Looking at the 2014 Season
The frenetic, and sometimes frantic, work of harvest, crush and fermentation is finally winding down. Primary fermentation is complete on all of our 2014 vintage, the first racking is completed, and secondary fermentation (malo-lactic fermentation) is proceeding nicely and should finish up in another few weeks. It will soon be time to start barreling our reds. After a couple days to recharge, I'm busy with the tractor, chain saws and woodsplitter, putting up next year's heat supply for the winery and house. I thought I would take a few minutes to enjoy the warmth of our wood stove on this cold, gray day and summarize how our 2014 harvest turned out.
Crush Crew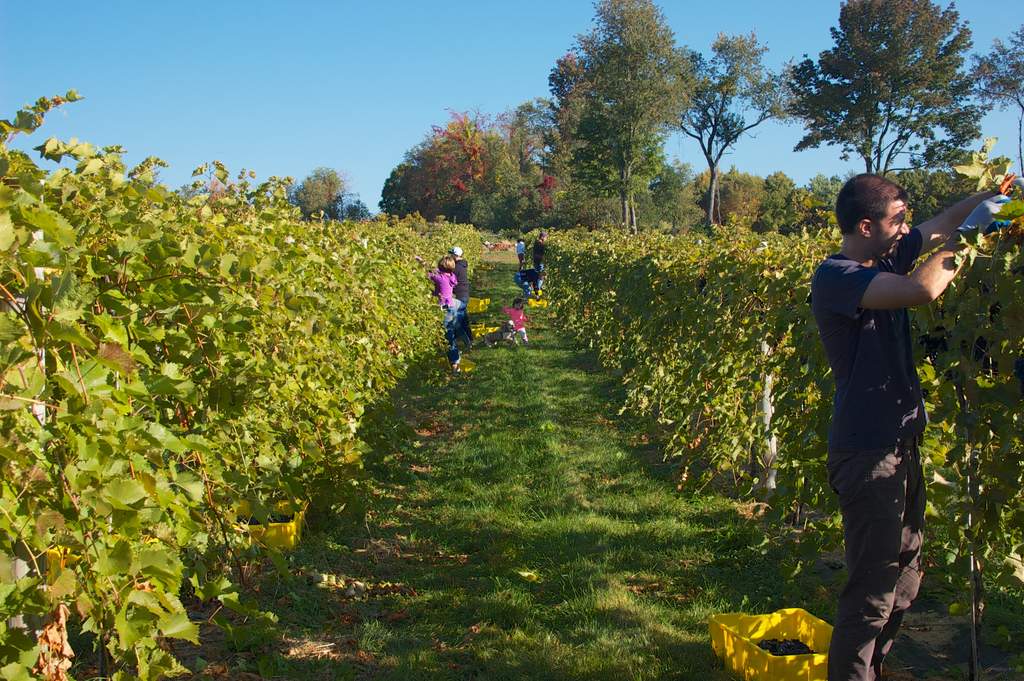 This was the second year that we harvested grapes from three full acres of our vineyard. Once again our Crush Crew turned out in force to help hand pick our crop of Marquette, La Crescent, Maréchal Foch, LaCrosse and Melody grapes. It was enormously rewarding to have so many family members, neighbors and friends pitching in and enjoying the camaraderie of what is fast becoming a very tightly knit community of vineyard and wine lovers. This was a repeat performance for most of our Crush Crew members including some folks who have helped us pick grapes every year since 2010. This experienced group made quick work of harvest; we picked the lion's share of our grapes in just three mornings in late September and early October. We also were fortunate to welcome and get to know some new crew members. All in all, our Crush Crew is an eclectic mix ranging from young urban professionals to elder rural sages. The diversity of life experiences these folks bring to our crew is astounding; watching them come together as a community of friends is amazing and gratifying. Thank you, each and every one!
The 2014 Season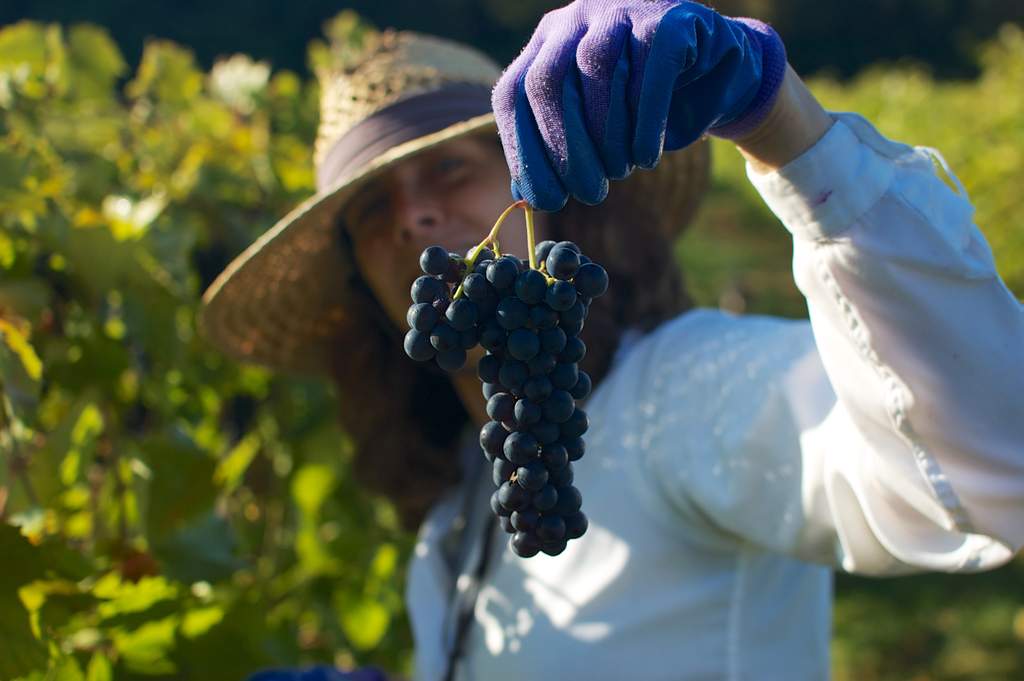 The 2014 growing season was a bit like living a Jekyll and Hyde experience. The cool, wet first half of the season reminded me of the evil Mr. Hyde; I didn't think the rain would ever end or the fungi ever stop sporulating. Fortunately, the benevolent Dr. Jekyll emerged in early August, and even though cooler than normal temperatures persisted, we were treated to a boon of clear, sunny, dry days; just what we needed to help beat back the fungi and let the vines ripen the grapes to turn sunlight into wine. The ripening process took longer because of the cool weather. We began harvest on September 27th, our latest start date yet, and finished up on October 14th when Mary and I picked our single row of Melody.
The Grapes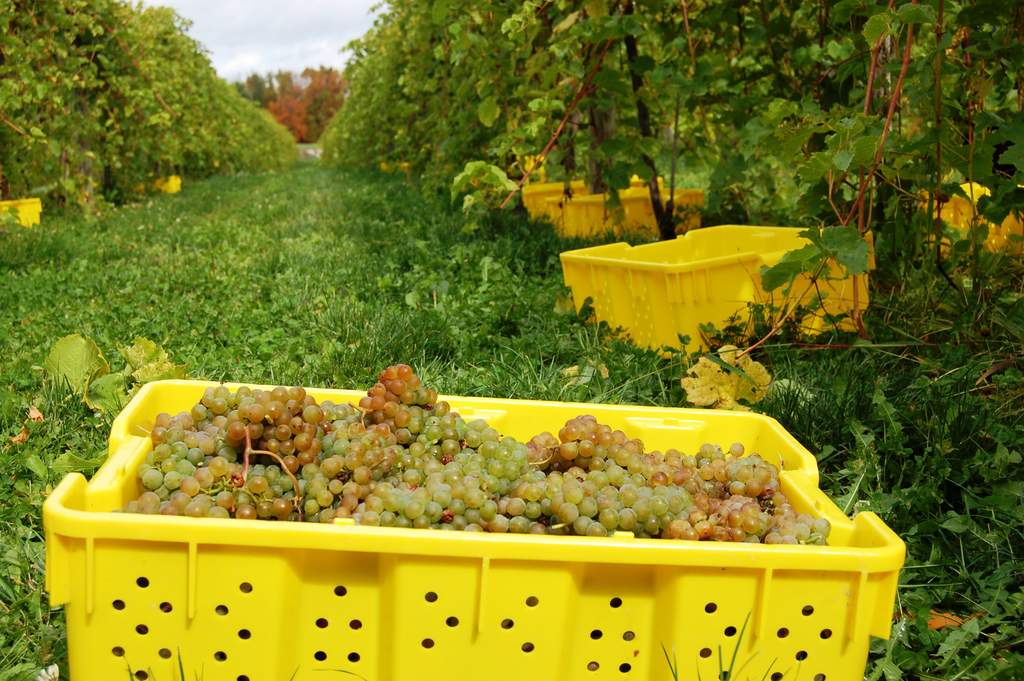 All together we picked just shy of nine tons of grapes. Total weight of Marquette harvested was down about 25% from 2013, mostly because of loss to bird damage. The late harvest date gave the birds more time to enjoy the fruits of our labor. The quality of the Marquette was both uniform and excellent; sugar levels averaged 25.6 Brix and acidity levels were below 10 mg/l. That means we will make more 2014 Turning Point and Independence and a bit less Revolution and Rebellion. The yield of La Crescent was up about 10% from last year and fruit quality was also excellent with sugar levels ranging from 23–24 Brix and acidity between 10–12 mg/l. We are making about equal amounts of 2014 Charlotte and Abigail. Some great news for you Lafayette fans; yield of Maréchal Foch was up by 25% and the fruit quality was the best we have seen yet with sugar levels averaging 24.8 Brix and acidity less than 9 mg/l. Our yield of LaCrosse was less than half of what we expected because our vineyard manager (that would be me) misdiagnosed a mid-season outbreak of botrytis and didn't start the right control measures in time. Here's hoping that proves to be an opportunity to learn from a mistake! The good news is that the quality of LaCrosse we were able to harvest was also the best we have seen yet. With the smaller volume of juice we were able to barrel ferment the LaCrosse and while our production of 2014 Fieldstone will be limited, I think it will be a wine to remember.
Thanks again to all of our Crush Crew family, and thanks also to all of you who support our efforts to make fine wine from historic ground.