Pruning Northern Grapevines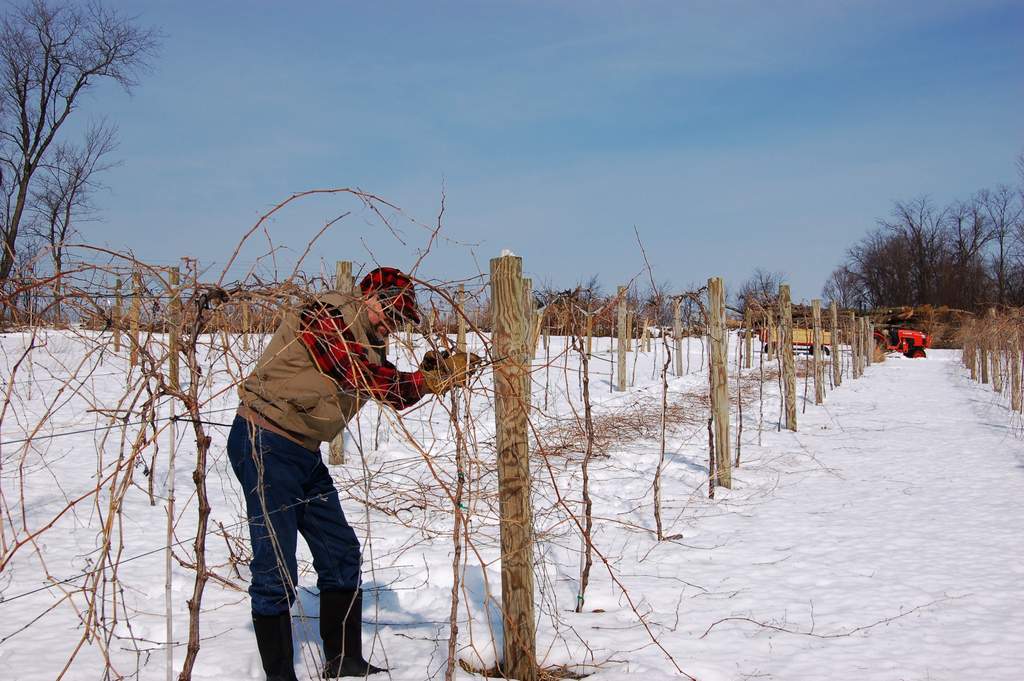 Gerry does most of the pruning here at Victory View Vineyard. He enjoys going out in the dead of winter to prune a row or two at a time "as long as the wind isn't blowing too hard," he says. I prune when temperatures rise to 45 degrees and the sun is shining, so he calls me a "fair weather pruner." It's true.
Pruning is done during dormancy in the winter after freezing temperatures are constant for months, vines are starved of water and growth halts. Armed with sharp pruners and the aid of warm clothing he can prune 120 - 150 vines per day. A well pruned vineyard is key to a healthy crop in the fall.
Probably the most asked question we get about growing grapes in our region is about how to prune. Many people have an unproductive vine or two in their backyards and want to know how to prune a vine to make it bear fruit. Grape vines produce fruit on new growth that come from buds on the previous year's growth (also known as one-year old wood). Cutting back the one-year old wood stimulates the vine to produce new fruit-bearing shoots.
All our vines are trained to the top wire of the trellis with a 3-foot arm, or cordon, extending from the main trunk in both directions along the top wire. The main trunk and the two cordons form a T shape. The fruit bearing shoots grow from the cordon and droop downward. There are usually 8 to 10 shoots on each cordon. In late winter and early spring we cut those shoots (the one-year old wood) back so there are two to three buds remaining near where the base of the shoot is attached to the cordon. The remaining short nub of the one-year old wood is called a spur. Each of the buds on a spur will produce a new shoot during the growing season and each of those shoots will produce two to three clusters of grapes.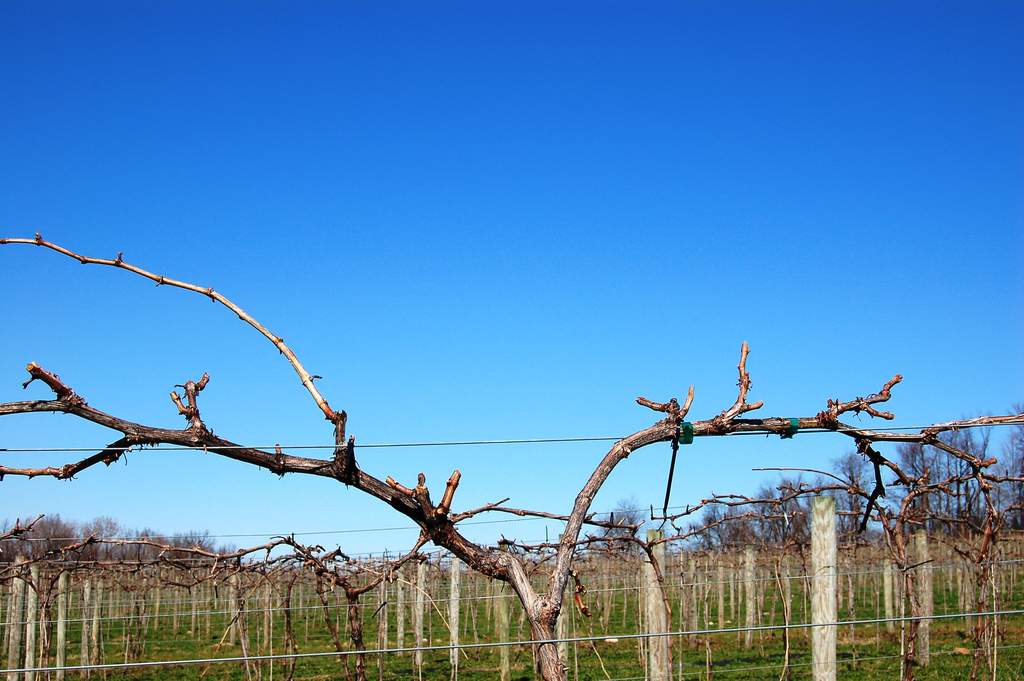 When I first learned to do this I was pondering over the best shoots to keep and counting each bud. I soon realized that it would take forever to prune 2,459 vines this way. Now my pruning is more intuitive and a little faster.
Pruned grapevines look beautiful to me, like natural sculptures against the blue sky that promise the future clinking of glasses. I'm glad our 2014 pruning is done and spring is here.