The Grand Tasting
The Grand Tasting at last weekend's Taste of Upstate Wine, Food, Music and Art Festival was the successful first festival sponsored by the Upper Hudson Valley Wine & Grape Association. If you missed it, look for an even bigger and better encore next year. The fest is on track to becoming a heritage event for our region.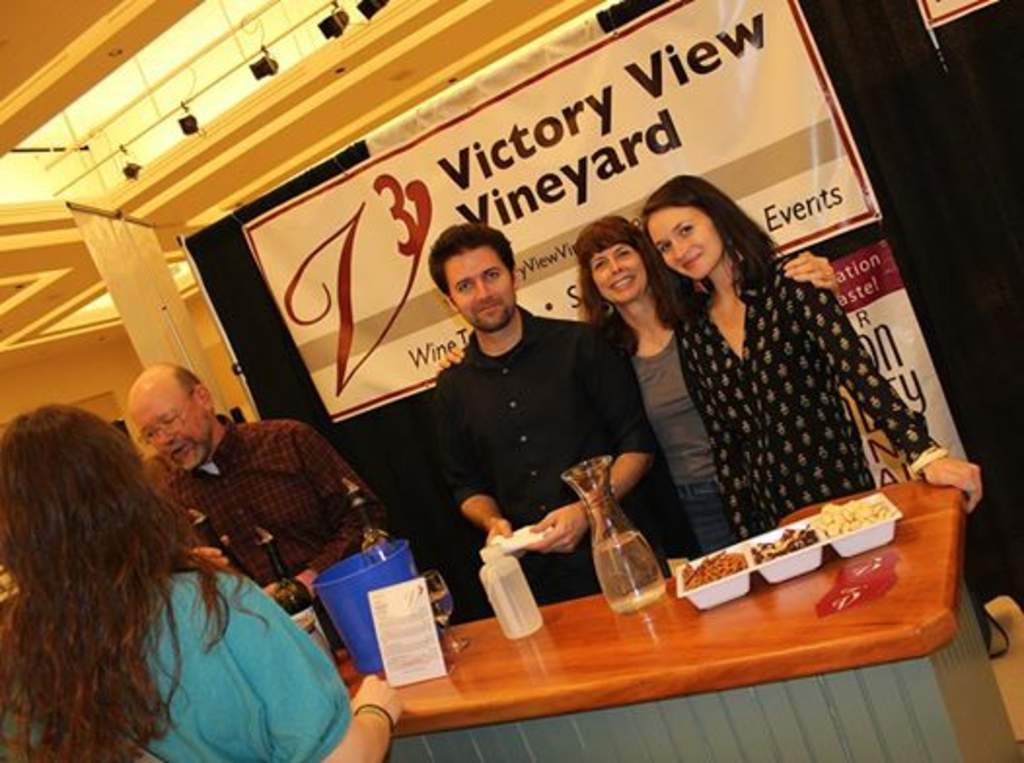 One thousand people made the Saratoga City Center their destination to great taste. Ticket holders had a chance to taste three of our award-winning wines and wines produced by other Upper Hudson Valley wineries. We – Gerry, Russell, Norabelle, and Mary - poured our 2012 Maréchal Foch, LaCrosse and La Crescent wines. Gerry, our winemaker, was present to talk about our wines and answer questions about our French American hybrid grapes. We also set up some of our wine-making equipment like our small wine press and crusher-destemmer.
Ticket holders also had the chance to sample many upstate products like cheese, crackers, maple products, gourmet dips, spreads, olive oils and more. Artisans displayed their original paintings, pottery, sculptures, jewelry, and wood crafts. The happy crowd was treated to the lively blue grass music of Flood Wood and the music of Steve Decker.
Check out the list of our 2014 upstate producers and see you next year. This is why we say the Taste of Upstate is the best of upstate New York. Cheers!
Upper Hudson Valley Participating Wineries:
• Adirondack Winery - Lake George, NY
• Amorici Vineyard - Valley Falls, NY
• Johnston's Winery - Galway, NY
• Natural Selection Farm Vineyard - Cambridge, NY
• Northern Star Vineyard - Valley Falls, NY (opening August 2014)
• Oliva Vineyards - Fort Edward, NY
• Swedish Hill Winery - Saratoga Springs, NY
• The Fossil Stone Vineyard - Greenfield Center, NY (opening 2015)
• The Saratoga Winery - Saratoga Springs, NY
• Thirsty Owl Saratoga - Springs, NY
• Victory View Vineyard - Schaghticoke, NY
Other Upstate Wineries:
• Altamont Vineyard & Winery - Altamont, NY
• Americana Vineyards & Winery - Interlaken, NY
• Brookview Station Winery - Castleton, NY
• Coyote Moon - Clayton, NY
• Hudson-Chatham Winery - Ghent, NY
• Lakeland Winery - Syracuse, NY
• Montezuma Winery - Seneca Falls, NY
• Thousand Island Winery - Alexandria Bay, NY
Upstate Breweries and Distilleries:
• Lake George Distilling Company - Lake George, NY
• Smaltz Brewing Company - Clifton Park, NY
• Paradox Brewery - Schroon Lake, NY
Upstate Vendors:
• AC Wood - Selkirk, NY
• Adirondack Cheese Co. - Barneveld, NY
• Applegrove Farms - Mexico, NY
• Berrylicious Bouquets - Middle Grove, NY
• Cake Cups by Stacey - Hannacroix, NY
• Castle Green Art Glass Studio - Salem, NY
• Cheeky Monkey Food - Syracuse, NY
• Flores Art Gallery - Saratoga Springs, NY
• Grandpa Pete's Gourmet Sauce - Catskill, NY
• Gusto Della Vita - Schenectady, NY
• Hidden Hollow Maple Farm - Warrensburg, NY
• Johanna's Raw Food - New Berlin, NY
• Lily and the Rose - Saratoga Springs, NY
• Mapleland Farms - Salem, NY
• North Creek Railway - North Creek, NY
• Peanut Principle - Albany, NY
• Rad Soap - Albany NY
• Saratoga Crackers - Saratoga Springs, NY
• Saratoga Garlic - Saratoga Springs, NY
• Saratoga Olive Oil - Saratoga Springs, NY
• Saratoga Farmstead B&B - Saratoga Springs, NY
• Silverleaf Resorts
• Sundaes Best Hot Fudge Sauce - Saratoga Springs, NY
• Valley Artisans Market - Cambridge, NY
• Whalen's Horseradish Products - Ballston Spa, NY
• Willow Marsh Farms - Ballston Spa, NY
• Worldings Pleasure - Watervliet, NY